Description-Home RO system with UV-ERS-106UVP
Best water purification system RO combined with UV Disinfection
Premium performance, Advanced design, Superior value !!
 
A combination of the best of  what the world has to offer in filtration and disinfection technology;  Home RO  Systems complemented with supplementary UV  disinfection. The UV light will disinfect filtered water at normal flow rate, providing one of the safest filtering systems available. Bacteria, viruses and other micro-organisms are destroyed by interfering with the DNA and RNA in the organisms' reproductive cycles. It cause immediate death for organisms and eliminates their ability to survive and reproduce.
The Home RO system with UV disinfection provides safe, pure water using Reverse Osmosis Technology. It is one of the finest water purifiers in its' class. It uses no chemicals and provides premium water quality. It's capable of removing over 98% of total dissolved solids, 99.99% of all organics and 99.99% of all bacteria.
Benefits of a Home RO system with UV:
RO Systems Eliminate up to 99% of dissolved solids, chlorine, fluoride, microorganisms and heavy metals such as barium, cadmium, chromium, lead and mercury from your water. Use RO purified water for drinking, cooking & ice for improved flavour and increased health benefits.
Ultraviolet Disinfection provides 99.99% destruction of bacteria, virus and Protozoan Cysts (Giardia Lamblia and Cryptosporidium) at rated flow.
Home RO System can be used to supply filtered water to a refrigerator ice-maker/water-dispenser by inserting a branch tee fitting (sold separately) between the UV System and the faucet.
Home RO Systems are equipped with automatic shut-off valves to eliminate waste by closing the feed line when the tank is full. 
Quick-Connect in/out connection points for easy installation. Complete installation kit and product manual included with every system.
Home RO Systems are assembled on a heavy-duty SS bracket for wall-mounting under the sink or in a nearby location.
Don't buy bottled water and safe money!  Consumers typically spend billions each year on bottled water products. Use of a reverse osmosis system will eliminate the need to spend money for expensive bottled water.
Environmentally Friendly and reduce your carbon footprint; The reduction in the purchase of bottled water by using a reverse osmosis system will help the environment by reducing the amount of plastics sent to landfills.
Ultraviolet Water Steriliser
Stainless steel 1gpm uv system
The ingenuity  of  the 1gpm PUREPRO UV system lies in employing a 254nm ultraviolet rays (UV-C)  resulting in spontaneous destruction of microorganisms. 
An Ultraviolet (UV) disinfection system transfers electromagnetic energy from a mercury arc lamp to an organism's genetic material (DNA and RNA). When UV radiation penetrates the cell wall of an organism, it destroys the cell's ability to reproduce. UV radiation, generated by an electrical discharge through mercury vapor, penetrates the genetic material of microorganisms and retards their ability to reproduce. The effectiveness of a UV disinfection system depends on the characteristics of the wastewater, the intensity of UV radiation, the amount of time the microorganisms are exposed to the radiation, and the reactor configuration. For any one treatment plant, disinfection success is directly related to the concentration of colloidal and particulate constituents in the wastewater.
 
---
Features:
 50GPD membrane. (Made in USA)
Includes Pump for higher flux
1 GPM Ultraviolet steriliser.
3.2 Gallons NSF Standards Water Storage Tank.
Automatic Shut-off Valve, Flow Restrictor, Stainless Steel Check Valve.
Use twist and quick-change cartridge design makes filter changes fast, clean and easy.
Feed water connector.
Drain Saddle Valve.
Four Color Coded 1/4 inch Tubing for System Connection.
Completely Assembled.
Long Reach Chrome Faucet .
100% Factory Tested and Sterilized Ready for Installation.
Installation  Manual.
Quick-change cartridge filters ** Quick-Change RO systems are so easy to service !!
The newly designed quick-change RO system is user friendly with design simplicity in mind. It requires no tools for filter changes. Use twist and quick-change cartridge design makes filter changes fast, clean and easy. No tools required for replacements. This space saving allows maximum use of your under counter space.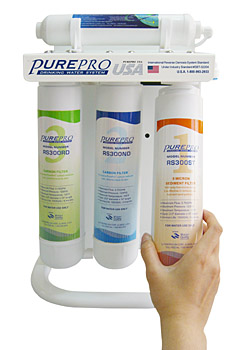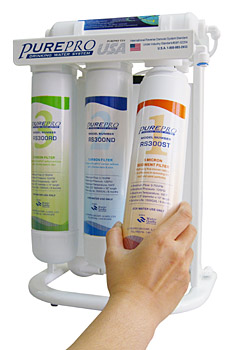 Quick change RO systems significantly reduce filter change time!
Change filters with a single 1/4 turn twist! Much quicker than traditional systems!

NSF Tanks :

Stainless Steel Connection System REVERSE OSMOSIS  Water Storage Tank
RO-132 1/4″ NPT 15092005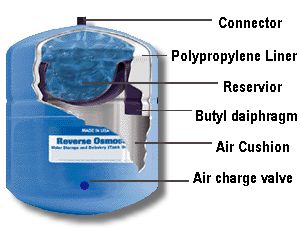 THIS RO TANK HAS BEEN TESTED & CERTIFIED BY NSF INTERNATIONAL UNDER  ANSI/NSF STANDARD 58 FOR MATERIAL  AND STRUCTURAL INTEGRITY REQUIREMENTS ONLY
BY PA.E MACHINERY INDUSTRIAL.
 
 
FEATURES:
Stainless Steel Connector 1/4″

Made from FDA listed food grade materials

Special designed for PurePro residential RO application

Reliable diaphragm design

Discharge efficiently in a vertical or horizontal position

Comes with Tank Stand

Side mounted Air Valve